Among one of the many responsibilities of a Head of Growth, CMO or Head of User Acquisition, it is necessary to plan and distribute the company's marketing budget through different paid acquisition channels.  There are plenty of existing paid acquisition channels to grow our business, and if we could have an unlimited budget, we would surely try to use all of them. However, considering that marketing budget, regardless of their size, is finite we should ask ourselves these questions: what's the best way to distribute the budget? What are the best paid channels to use? In which moment should we choose one or another?
This article does not intend to explain what the steps are for executing a user acquisition campaign neither does it describes all possible acquisition channels to use. The aim of this article is to help improving the vision of the person in charge of the company's growth choosing between all different paid acquisition channels based on criteria such as market share or potential market through a simple framework. This model has been developed based on framework described by Eric Seufert in his article "Brand marketing and performance marketing could co-exist on mobile" which explains the relationship between "performance" and "brand marketing" based on such a model. It is important to mention that this article applies to the "mobile app" ecosystem although it could be extrapolated to other sectors.
Define the potential market
The first thing we must achieve is to have very clear what our potential market size is. To achieve this, a very representative ring-shaped graphic could be used, where by each ring represents a segment of the population to target. The deeper layers represent the customers most related to our product and/or service while the external layers represent the rest of the potential market. While this chart should be adapted for each sector, in our case of study, "mobile apps" we could represent layers with segment of customers that do use the app frequently, those that have a Smartphone but do not use apps, those who only use the most common or basic apps or those who do not have a Smartphone but have plans to get one, etc.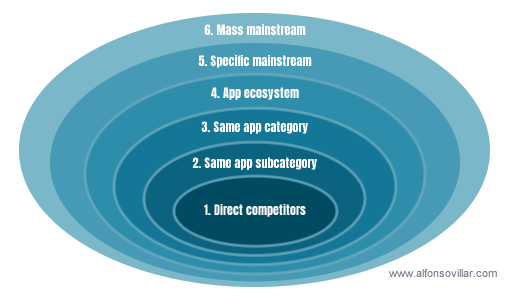 In our represented case we have:
Direct competitors. Starting from the deepest layer, if we would like to grow our business, the first focus should be to attack the segment of customers who use similar products and/or apps since this segment should be the one with highest conversion (although it might not be the one as it depends on many other factors). Suppose that we have a music app that offers specific music services. It is possible that there are other similar apps that offer the same or similar services.
Same application subcategory. In the case that there is a subcategory for our case, this would be the next layer to consider. Using the same example above, the layer will be "all music apps" subcategory.
Same application category. The same case as previous one but on a higher level of hierarchy. For our example will be "all entertainment apps" category.
Application ecosystem. A layer that houses the entire app ecosystem of mobile applications from games, books, movies, services, etc.
Specific audiences. In the outer layers we could reach users who may or may not use applications but we could segment them based on interests through specific media channels such as theme magazines, article opinions or even specific TV channels or TV shows.
Generic audiences. This would be the most external layer of our framework and could be known as "mass market". The same conventional channels could be used to target this segment but more generic speaking. It's when we talk about TV channels, radio, press, prime time, etc. It is common to define the segment such as "Men over 35 years old".
Defining our audience with a "customer persona tool" will allow us to better identify the stages described above for our case.
Paid  acquisition channels to be used for each segment
Before combining the paid acquisition channels with the segment of our potential market, we will describe, very roughly and at a very high level, the different existing paid acquisition channels. Obviously, there are many more of them and they could be subdivided into many other levels. However, this is not the purpose of this article.
Owned inventory channels. They are those applications, entities or companies that have their own traffic and which they put it on sale through different systems. The most well-known are Facebook Ads, Google UAC, Linkedin, Twitter, Pinterest, Apple Search Ads, Snapchat, etc. The main advantages of these paid acquisition channels are hyper-segmentation for interests, tastes, uses, demographics, etc. In addition to being native ads (ads integrated into the application itself) which greatly increases the profitability and conversion of the advertiser.
Advertising networks (adnetworks) and AdExchanges. These are basically networks or technologies that connect advertisers who want to buy inventory and publishers who want to sell their inventory. The main advantages of the AdExchanges are that there are some specialized by sector, segment or geo, and that could cover the rest of the market that owned inventory channels could not reach. For example, there are users who read a specific online magazine but do not use Facebook or Twitter. The capacity for segmentation of these solutions will depend on their ability to mediate, technology, and quantity and quality of their publishers. This other article collects more information about its operation in case you want to go deeper and in more details.
Conventional media. In addition, traditional media such as press, magazine, radio, television, cinema, exterior, etc. The main advantages of these channels over digital advertisement are the scope, scalability, brand awareness and creativity.
Unconventional media. Lastly, we have the unconventional media that consists of those alternative sources that will depend on each case in question. Some examples are influencers, podcasts or reddit.
Once the main paid acquisition channels have been described at a very high level, we will introduce them into our model by crossing them with the market segments we've described for each case.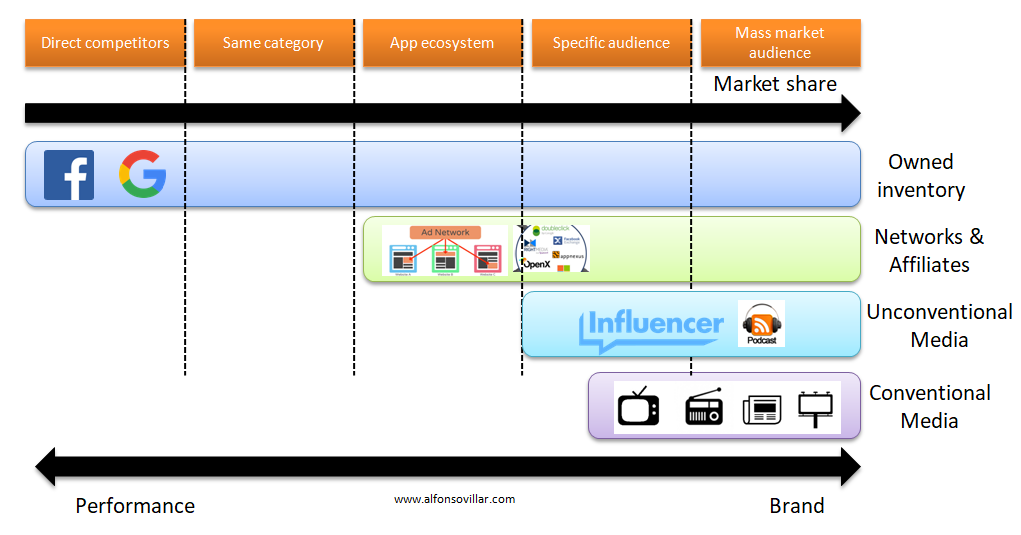 To attack the more inner layers of our framework, it would be the best to avoid the Adnetworks jungle by focusing our budget on owned inventory solutions such as Facebook Ads or Google UAC mainly because of its targeting capability. While there are channels that may not meet the needs for all advertisers as well as scalability, they are the best channels to start with, obtain insights and define our business metrics. At the end of the day, these are "All in one" solutions really easy to use.
Subsequently, once we see that those networks begin to be "insufficient " we can expand our scope to adnetworks and adExchanges, starting preferably by the specific ones of our sector or geo. Before attacking this layer or diversifying the channels, it is necessary to professionalize our reporting tools and have clearly defined our positioning strategy. Many companies fall into the mistake to diversify their paid acquisition channels too early. Some indicators that will allow you to know to move over the next layer could be the audience saturation and CPM increases.
At this same level or between this one and the next, we can also try to use some unconventional media such as influencers. These types of campaigns consume too much time and budget in creativity, negotiations, etc. On the other hand, they are a really interesting step to explore before attacking the upper layers and to start generating brand recognition across our audiences.
Lastly, when we aim to generate brand awareness or attack the most external layer of our model to drastically open the spectrum, we could use the traditional conventional media, preferably starting with those specific or most related to our product and/or service. This should be the last option of all, once our strategy, positioning and product are well defined and executed and we have achieved enough traction in the rest of the layers. Conventional media will put the "link to the wrapper" of our entire marketing strategy by closing the circle.
As we evolve and scale our paid acquisition channels, our strategy gradually goes from what is known as "performance marketing" to "brand marketing".  And if we have set ourselves, this evolution is precedent of our market share evolution. A higher market share, the more need to use conventional media to increase our scope, generate awareness, etc. without ever neglecting the performance marketing, which allows us to enhance the more internal layers of our market.
Finally, let's take a clear example into the startup ecosystem that really explains this model: the "Media for Equity" (take a stake inthe company in exchange for advertisement budget usually in the form of conventional media). If we had unlimited budget or the possibility of doing a Media for Equity we would do it, but it may happens that it is not the right time for our business. In fact, the first filter that you will find when doing a Media for Equity is to see if you really have reached the market and product maturity to jump into the next level.
Related articles:
The three stages of the mobile marketing lifecycle
Mapping the Mobile User Acquisition Stack
Acquiring Better Users
Top Advertisers offers tips and insights on the Appsflyer performance Index